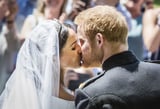 Prince Harry and Meghan Markle officially became husband and wife in May 2018. The couple first began dating in 2016 and announced their engagement in November 2017. Even though many of us (myself included) are still nursing a broken heart, it's hard not to be happy for them. I mean, just look at them! They clearly make each other incredibly happy, and just listen to the way they talk about each other. Have you ever heard anything cuter? While we may have lost our chance of becoming the Duchess of Sussex, we couldn't think of a better royal match!
Related:
Mom-to-Be Meghan Markle Is Positively Glowing During Her Pregnancy

Read more: popsugar.com
The best offers on the market today:
Get 250+ Daily Website Visitors On Complete Autopilot in ANY Niche with 100% Real FREE Traffic
Planet Burma / Planet Myanmar.
Viral reach Reseller 120
Boomer Natural Wellness - First Cbd Offer On CB
Jvs360.com - The Ultimate Joint Venture Package