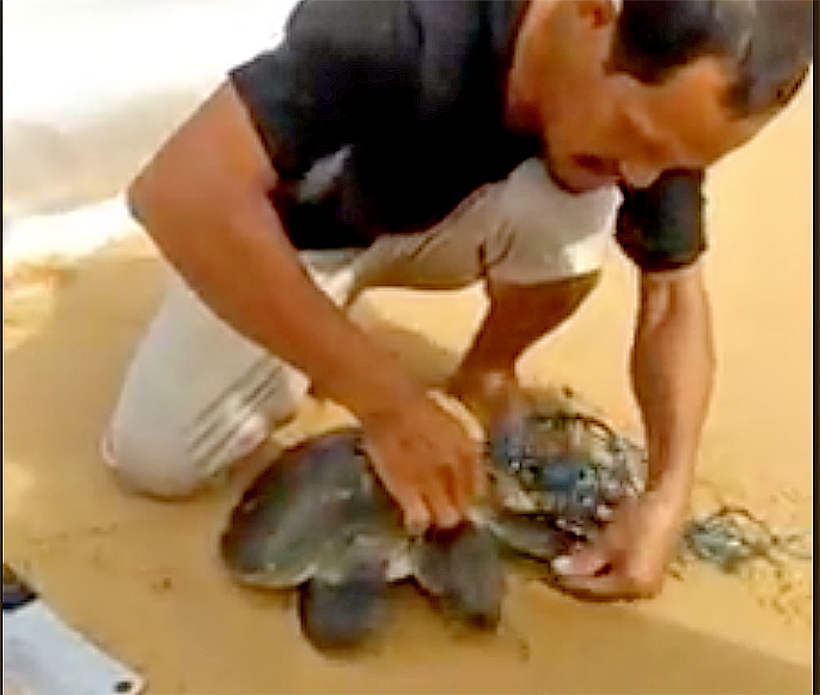 A local villager in Phuket's north has risked his own life to retrieve a young sea turtle caught up in fishermen's netting. The turtle was spotted, caught up in the branches of a fallen tree along the shores of Mai Khao beach. The monsoon was kicking up big waves and it's unlikely the locals knew how to swim, especially in the surf conditions.
The local villager makes a few attempts to retrieve the turtle, eventually separating the turtle and netting from the tree branches with a meat cleaver.
After clearing the netting from around the turtle's flippers and neck, it was taken by an officer from the local Phuket Department of Marine Resources for evaluation and treatment before it will be released back to the sea.
VIDEO: ห้องวีอาร์ ทะเลใต้ // @มานพ สิงห์ 8802
🔴 #ภูเก็ต #เต่าติดอวน วันนี้ 17 สิงหาคม 2562 ชาวบ้านได้ช่วยเหลือเต่าติดอวนพันตามคอลำตัว คลื่นได้ซัดเจ้าเต่าน้อย เข้าหาฝั่งหน้าหาดไม้ขาว ชาวบ้านได้แก้เชือกออกตามคลิป และได้เเจ้งเจ้าหน้าที่มารับไปอนุบาลเป็นที่เรียบร้อย #NewshawkPhuket Cr.ห้องวีอาร์ ทะเลใต้ // @มานพ สิงห์ 8802
Posted by เหยี่ยวข่าว ภูเก็ต Newshawk Phuket on Saturday, 17 August 2019
The post Phuket villager braves the surf to rescue tangled turtle appeared first on The Thaiger Thailand news.
Read more: thethaiger.com