From previous article:
-->
Manual De Formulas Para Elaborar Productos De Limpieza
-->
Special Repwarn Resellers Monthly Account
-->
Truth About Hypnosis
-->
Colorful Butterflies Tattoos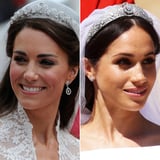 Looking at photos of Meghan Markle and Kate Middleton's strikingly similar debuts last year got us thinking about how many other exciting (and likely overwhelming) first-time experiences they've shared as regular women who happened to become royalty. Meghan's whirlwind 2018 was full of fun firsts, from being on the balcony at Trooping the Colour to a solo outing with Queen Elizabeth II and even her first royal tour with Prince Harry.
Kate Middleton made a lot of the same moves back in 2008 while dating William, and ticked even more firsts off her list after they got engaged in 2010. We've put Kate and Meghan's royal firsts side by side, from wedding days to royal outings to their respective first postbaby debuts – and there will be plenty more to add this year!
Related:
10 of Kate Middleton and Meghan Markle's Cutest Sister-in-Law Moments

Read more: popsugar.com